New Delhi, Jnn. India has created a new history by crossing 100 crore doses in corona vaccination. Prime Minister Narendra Modi has thanked the doctors, nurses and other personnel of the country for this and attributed this success to the science and enterprise of the country as well as the collective spirit of 130 crore people. To be a participant in the historic moment of the hundred croreth dose, the Prime Minister himself visited the Ram Manohar Lohia (RML) Hospital and took stock of the vaccination. On this achievement of India, there was an influx of congratulations from the country and abroad throughout the day.
made history
This achievement of India has been historic in many ways. It has been achieved entirely from indigenously made vaccines. At the same time, India has become the first country in the world to achieve this success at a much smoother and faster pace than the more resourceful developed countries. 15 percent of the total 700 million doses of corona in the world are in India alone.
The five states with the highest dosage
1. Uttar Pradesh
2. Maharashtra
3. Bengal
4. Gujarat
5. Madhya Pradesh
Achievement achieved with the help of other countries
Along with the vaccination of its citizens, India has given about 55 million doses to other countries. The biggest thing is that out of 100 crores, more than 97 crore doses were given to the people free of cost and only three per cent are administered through the private sector. In this also the private sector was not allowed to recover profits.
journey has not been easy
The journey up to 100 crore doses in corona vaccination has not been easy. The road to availability of infrastructure and raw materials etc. for vaccines was not only difficult, the political disputes that arose again and again added to the difficulty. The achievement achieved in 279 days started with the vaccination of health care workers only on 16 January.
When did vaccination start for whom?
– January 16 – for health workers
– February 2 – For front line workers
– March 1 – for over 60 years of age
– April 1 – for over 45 years of age
– May 1 – For all adults
…and expanding
Gradually its scope expanded to include frontline workers, elderly people above 60 years of age, 45 to 60 years of age and finally from May 1, it was opened to all adults above 18 years of age. .
Important steps of vaccination
10 cr – 85 days
20 cr – 130 days
30 cr – 159 days
40 cr – 183 days
50 cr – 203 days
100 cr – 279 days
The second wave taught a lot
At the beginning of this campaign, which started in the last phase of the first wave of Corona, India gave them about 50 million doses under the concern of neighbors and friendly countries and vaccine friendship. But it became a big political issue during the second wave of infections in April-May and the government first completely banned its export to protect the citizens of the country.
Highlights of the vaccination campaign
Campaign started on 16 January
Open to all adults from May 1
More than 97 crore doses got free
5.5 crore doses were also given to other countries
Success achieved with indigenous vaccines
103.5 crore doses made available to the states
States still have 10.85 crore doses available
All adults to be vaccinated by December 31
In view of the country's large population and limited production of vaccines, the success of India's vaccination campaign continued to raise fingers from home and abroad. Amid all-out pressure, the government also cleared the import of foreign vaccines and announced relaxation in the conditions for bridge trials required for them.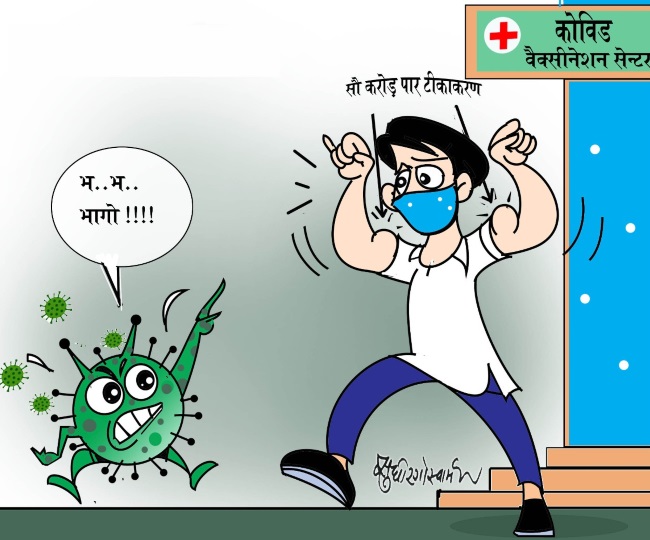 Do not kneel before foreign companies
Along with this, the government has made it clear that it will not bow to conditions like compensation to foreign companies for the supply of vaccines. Finally, in June, the government made it clear that it was ready to vaccinate all adults in the country by December 31, and for this it also laid out a roadmap for the availability of vaccines.
took command over the chaos
A fully centralized vaccination campaign also became an issue in the month of April and there was a demand for the participation of states and the private sector in this. Many states have also started ordering vaccines from foreign companies so that they can conduct vaccination campaigns independently.
States to administer at least one dose to all eligible people
– Andaman and Nicobar Islands
– Chandigarh
– Goa
– Himachal Pradesh
– Jammu and Kashmir
– Lakshadweep
– Sikkim
– Uttarakhand
– Dadra Nagar Haveli
The Center also imposed the dose of the states' share
In view of this, the government has reserved 25-25 percent of the vaccines for the states and the private sector from the month of May. But within a month, the vaccination campaign under the states started falling into disarray and from June 21, the Center decided to introduce their own vaccines as well.
88 crore doses were taken only by Covishield
This vaccination achievement has been achieved by only two vaccines manufactured in India, Covishield and Covaccine. Of these, about 88 crore doses are of Kovishield and 12 crore of Covaccine. Sputnik-V could not be a part of the vaccination campaign due to non-availability of the second dose.
PM Modi said – this achievement of every citizen
Prime Minister Narendra Modi said that the country now has a strong protective shield of 100 crore doses of vaccines to fight the biggest epidemic of 100 years. This achievement belongs to India and every citizen of India.
The world got acquainted with India's potential
Union Home Minister Amit Shah said – This record has made the world aware of the immense potential of New India. I thank all the scientists, researchers and health workers who contributed to this Mahayagya by facing many challenges. I also congratulate Modi ji who is committed to the safety and health of every person.
This achievement is a symbol of India's strength.
BJP President JP Nadda said that this achievement shows the amazing capability of India in difficult times. This is an unprecedented achievement in the field of health, as well as a symbol of India's potential on the world stage.
This Diwali for India
Union Health Minister Mansukh Mandaviya said that it is Diwali for self-reliant India. After 100 crore doses, we will ensure in mission mode that those who have taken the first dose also take the second dose so that they can be protected from corona.
must wear a mask
Union Information and Broadcasting Minister Anurag Thakur said that when it is felt that there is no need to wear masks, then experts will tell you about it. But, unless they say so, wear a mask.
Poonawalla said this
Congratulations to Prime Minister Narendra Modi for crossing the 100 crore dosage mark of Corona vaccines. I also congratulate all the ministers, agencies and health workers of the Government of India for their tireless efforts during the pandemic.
– Adar Poonawalla, CEO, Serum Institute of India
Bharat Biotech described the success of self-reliant India
Bharat Biotech is proud to contribute to this historic achievement. It is the combined effort of the government, vaccine makers, health workers and all the vaccinated Indian citizens that made this the real success story of self-reliant India.
– Dr. Krishna Ella, Chairman and Managing Director, Bharat Biotech
Achievement achieved by vaccines made in the country
Rajiv Pal, Vice Chairman, NITI Aayog said that India has once again shown exemplary ability to solve for ensuring the welfare of the people. Congratulations to Mansukh Mandaviya for living up to the highest expectations of Hon'ble Prime Minister. At the same time, the head of the Kovid Taskforce said that the most remarkable thing is that this achievement has been achieved through vaccines that are manufactured in India.
America appreciated
I commend India's success in fighting the Corona pandemic and its efforts to help end the pandemic in the Pacific and beyond.
– Antony Blinken, Secretary of State, US
The United Nations said this
This achievement of vaccination reflects India's commitment to Sabka Saath, Sabka Vikas, Sabka Vishwas and Sabka Prayas. I commend India for this significant success.
– D. Boyd, United Nations Coordinator in India
The World Health Organization also congratulated
Congratulations to Prime Minister Narendra Modi, scientists, health workers and the people of India for their efforts to protect vulnerable populations from corona and achieve vaccination targets.
Tedros Adhanom Ghebreyesus, Director General of the World Health Organization
Israel is overwhelmed
Congratulations to Prime Minister Narendra Modi, who has led the successful corona vaccination campaign to administer more than one billion doses to Indians so far. These life saving vaccines are helping us all beat the global pandemic.
– Naftali Bennett, Prime Minister, Israel
Bhutan made a big achievement
This is a great achievement not only for India but also for the world. On behalf of the people of Bhutan, I congratulate India.
– Dr. Lotay Tshering, Prime Minister, Bhutan
Sri Lanka said – Vaccination is the future
The way forward and staying safe depends on successful vaccination. Congratulations on achieving this goal.
– Mahinda Rajapaksa, Prime Minister, Sri Lanka
thank you maldives
Congratulations to Prime Minister Modi and the Government of India for injecting one billion doses of Corona vaccines. Thanks to India for supporting Maldives' Corona recovery and vaccination efforts.
– Ibrahim Muhammad Soleh, President, Maldives
.